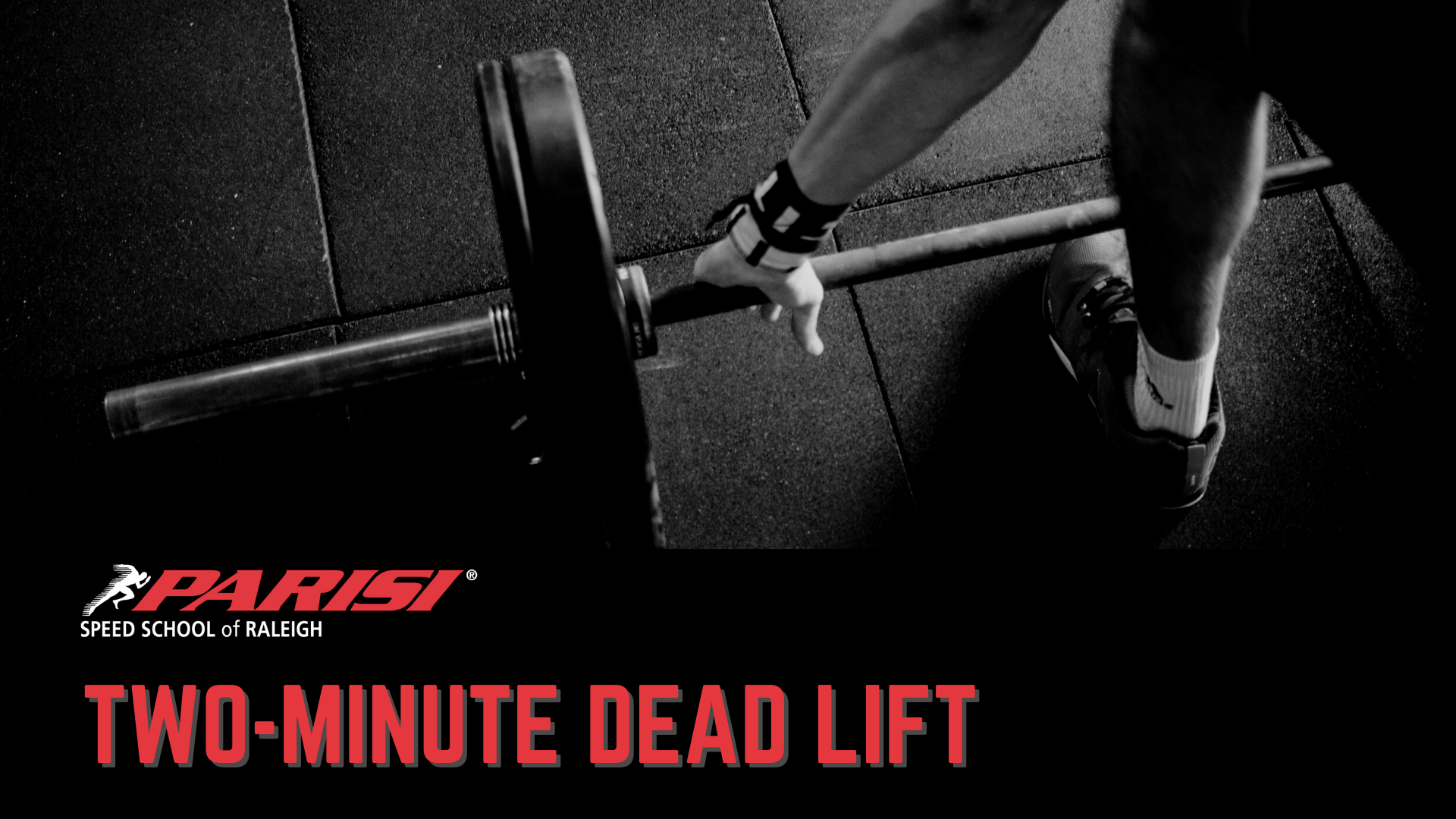 The Play: The Deadlift
The Purpose: To improve the strength in your extensor (power) muscles, which is proven by science, to improve acceleration and power generation.
Pre-Snap Read: Always focus on technique.  It is important that throughout this exercise you keep a neutral spine and stable core. To get started, we are going to show you what a stiff back and neutral spine should look and feel like.  First, by lying on the ground we show you the natural curve of your spine. Second, with some help from a PVC pipe, we show how to perform the lift with a stiff core and neutral spine.
Performance: For a standard deadlift, position your feet about shoulder width apart and shins close to the bar. Think about rooting your feet into the ground as if    your feet were hands, trying to grab the ground with your feet.  Drop down and grip the bar while keeping your elbows between your knees.  Remember to keep a neutral spine.  Rise up by simply thinking about pressing your feet through the ground in a controlled but powerful fashion.  Once at the top of the lift be sure to lower the bar down slowly and under control without losing control of your core.
Post Drill Analysis: There are a few variations of the deadlift and while the grips and stances may change, you always want to make sure that you keep a strong, neutral spine and perform your movements in a very controlled and measured fashion.
About the author : Kwame Dixon
Kwame Dixon is a 1987 graduate of the University of Pittsburgh, where he played football and earned a bachelor's degree in business administration. Coach Kwame Dixon entered his first season on the NCCU coaching staff as wide receivers coach in 2011 for Green Hope High School Eagles after spending the past eight seasons as a head football coach on the high school level. For three seasons (2005-07), Dixon served as head coach at West Johnston High School in Benson, N.C. In 2007, he led the Wildcats to a single-season school record seven victories (7-5), the school's first-ever state playoff appearance and the program's highest conference finish at second place in the Greater Neuse Conference. During the 2000-04 seasons, Dixon was head coach at Cambridge (Mass.) High School, where he posted the highest winning percentage in school history, recorded the most wins in a single season and was voted as 2003 Massachusetts Coach of the Year.
Join our mailing list today
Insider offers & flash sales in your inbox every week.
[contact-form-7 id="1745" /]
Curabitur non nulla sit amet nisl tempus convallis quis ac lectus dolor sit amet, consectetur adipiscing elit sed porttitor lectus.